FileHold Unlimited training
Image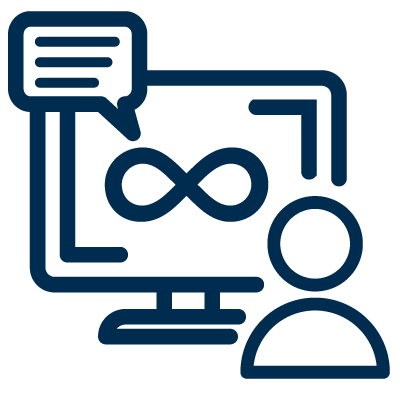 Available for "Train-the-trainer" and administration training

Covers all out-of-the-box standard and optional FileHold features

Offers refresher training for existing team members or overviews for new administration users

Requires FileCare
FileHold recommends training as part of the implementation of its enterprise-grade document management software. FileHold offers two training options: the FileHold Fundamentals package and an unlimited training program. For organizations with more complex use cases or greater staffing needs, unlimited training is the ideal long-term solution to keep FileHold working at its optimum.
Unlimited training means the learning continues after the initial deployment. When enterprise-grade software is brought into an organization, it transforms the way documents and records are stored, searched, retained, and utilized. The FileHold training program is designed to keep your project goals in mind and ensure the DMS meets and exceeds those requirements. Over time, with FileHold continuing to provide benefits, the use case may grow or evolve, but the skills of the users do not. Unlimited training fills the knowledge gap, whether you need to learn how to use the expansive feature set, look at using a new set of tools, or bring new team members up to speed with how FileHold works to account for staffing change-over. As FileHold grows with new features, unlimited training is available to help your team learn about these changes and how your organization can utilize them for your benefit.
FileHold's training is offered entirely online – you can schedule your session through an accessible calendar, meet with your trainer through online tools, and have your training recorded and shared through FileHold Courier for future reference. The unlimited training option is offered in the "train-the-trainer" model, where the FileHold trainer will work with your project leaders, project champions, or in-house trainer to master FileHold. Where possible, this is done using the organization's use case, documents, and internal processes to make sure FileHold matches operational needs. The unlimited training package also includes refresher training for new system administrators who would benefit from a richer understanding of how FileHold works. The standard training curriculum can be viewed here.
The unlimited training program covers all standard and optional features of FileHold, within the scope of the FileHold Service Level Agreement (SLA). The SLA defines the obligations for FileCare, which is FileHold's program of upgrades and unlimited technical support – FileCare is a requirement to be part of the unlimited training program. With FileCare, "unlimited support" covers FileHold's core software and features, but not custom elements or third-party integrations. One example is API: although FileHold has API that is available for use, only the FileHold API processes, such as watched folders or manage imports, are covered by FileCare. If an organization uses API to build integrations with third-party software, those integrations would not be covered by FileCare; assistance with configuration or trouble-shooting would be a Professional Service. The same model of coverage is offered for unlimited training: out-of-the-box functionality of FileHold in the train-the-trainer model. If an organization would like to purchase training for users one-on-one or to train on a non-standard deployment, this can be potentially purchased as a Professional Service.
As an enterprise-grade software, FileHold offers not only an extensive list of standard and optional features but also different ways to perform actions that may better match how each organization works with documents. FileHold's training program will offer best-practice advice on the optimal operation of the DMS based on each organization's specific stated needs. The training programs are intended to be a dialogue to collaborate on the best methods, as FileHold understands, to achieve the organization's document management goals. This advice will be general - the training program is not a comprehensive operational analysis nor is it a consultation service to problem-solve organizational challenges. Your trainer will draw on their experience from similar operations and advise on how FileHold can assist. The goal of training is to optimize FileHold for your needs and deliver total satisfaction with the training process.
For organizations with a simpler use case or experience limited IT administrative turnover, FileHold offers a simpler program of training designed to get the organization up and running quickly. The FileHold Fundamentals package is limited to 8 hours, which is typically used in the first two months after implementation. These packages expire after one year. This is often sufficient to get FileHold working. Even in these cases, however, the unlimited package can be a greater long-term investment: the hours never expire, and the training can be done in stages to allow for expansion into other areas. The FileHold Fundamentals program is available to organizations that choose unlimited training. The Fundamentals program of System, Library, and End User Administration training is recommended for all new installs of FileHold. If the organization is already using FileHold, refresher Fundamentals may also be a great option to get staff up to speed.
If you are not sure which option is best for your organization, or have any other questions about FileHold training, please contact us at [email protected].