Portal Alias User Accounts and the Anonymous Portal
Introduction
The FileHold Anonymous Portal (formerly guest portal) is a web portal that functions as a point of access to the FileHold repository. The Anonymous Portal is used in conjunction with portal alias user accounts (formerly guest accounts) to provide secure, read-only access of documents to internal and external users. The benefit of using portal alias user accounts and the Anonymous Portal are:
Portal alias users take advantage of a special limited concurrent sessions (formerly guest sessions) at a substantially discounted cost to avoid consuming your regular user concurrent licenses. Portal alias user accounts are ideal for casual employees, external personnel, partners, or vendors who do not need to work with FileHold but that may require access to specific documents or areas in the library.
A single single registered portal alias user license can be used for many users to access FileHold.
Web users accessing a Anonymous Portal do not need to know how to login to FileHold.
You can provide web users with a link to a document in the Anonymous Portal that they can click to automatically login and get access to the document.
The Anonymous Portal can be personalized to include a custom header panel. The custom header panel can be used to integrate seamlessly with an existing corporate intranet to provide a pathway to other content.
Portal Alias User Accounts
Portal alias user accounts have read-only access to the documents in the repository; therefore, the functions they can perform are limited. portal alias users can:
View the metadata and file properties of a document in the cabinet / folder in which a user can access.
View a document's history of changes (edits to metadata and usage of file).
Perform searches.
Download a copy of a document to the local hard drive.
Email documents (if enabled).
Use the viewer for read-only specific functions in the desktop client (if enabled).
View the properties of the library in read-only mode.
View reports (if enabled).
In order for portal alias users to access the repository, you will need to create a "portal alias" account. A "portal alias" is a specific account type that will be used for all portal alias users. The portal alias user account licenses use "limited concurrent" licenses. For example, if you purchase 100 limited concurrent sessions, then up to 100 portal alias users can be logged in at the same time. Portal alias user licenses are useful if you have users that require access to your repository such as casual employees, external personnel, partners, or vendors but do not require a full registered user license.
Once a "portal alias" account has been created and given the "Limited" group role, permissions can be set at the Cabinet, Folder, and Schema level in order for portal alias users to view the documents in the repository.
Anonymous Portal
The Anonymous Portal allows external and internal users to easily access documents in your repository such as newsletters, forms, or corporate policies without having the need to log into FileHold. This method is extremely helpful when an organization wants to proactively have employees look at information.
Once the Anonymous Portal is configured, you can send links in an email or have them posted on a website, such as your intranet, to the users who need to view the documents. After a user clicks on the link, the Anonymous Portal opens and portal alias users can view the document. Users will only be able to see those documents that they have permission to access in the Library.
Note that portal alias user accounts can still log into the FileHold Web Client using the "portal alias" username and password.
Each FileHold system has a minimum of one web client server and allows the configuration of a single Anonymous Portal. There is an option to install one or more separate Web Client Only servers to allow for multiple Anonymous Portals. Each Web Client Only server can have its own login credentials and page customizations making a completely independent user experience possible in each case.
Custom Header Panel
The header panel in the Anonymous Portal can be customized to include a company name, special instructions, links, buttons, navigation bars, and corporate logos. To customize the panel, a header "control" can be created and inserted into the Anonymous Portal application. A control can be an html file, an ascx file, or a compiled dll.
For example, you can create a .dll control that resembles the look and feel of your intranet navigation toolbar. The customized header would contain the buttons or links on the existing intranet site plus an extra link for the FileHold repository such as "Documents". When users are in the Anonymous Portal, they can click on a link in the header to take them to their intranet site. Conversely, you can modify your intranet site so that once users click on the "Documents" link from their intranet site, they would be automatically logged in to the portal using the portal alias user account. To users it would appear like there is a seamless integration between the FileHold repository and their intranet site.
Image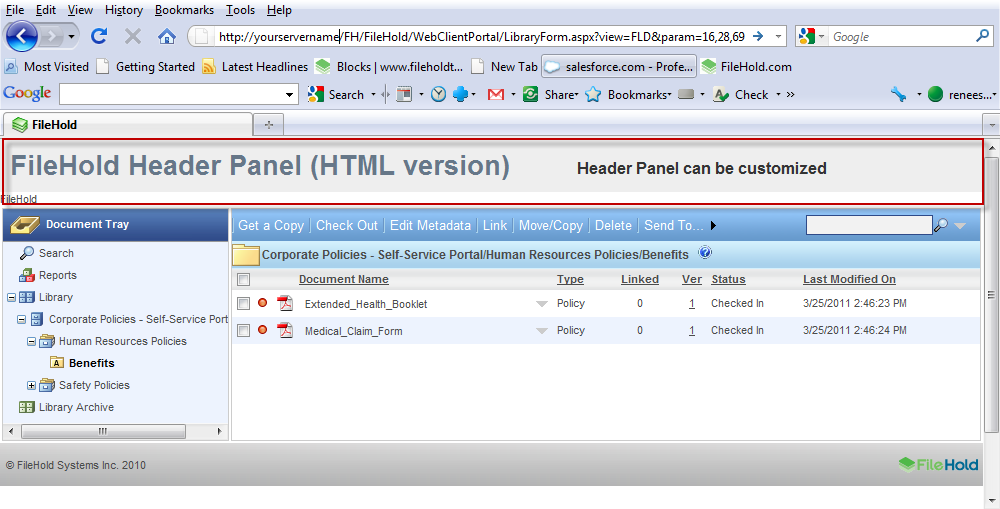 To purchase portal alias user licenses or to find out more about the Anonymous Portal, contact [email protected].