Library administrator - Logging in
You can access Library Administration functions from both the Web Client and the FileHold Desktop Application (FDA). The Web Client has full access to all Library Administration functions while there is limited functionality in FDA.
The Library Administration features in FDA include:
These functions work fairly similarly to the Web Client functions.
To login to Library Administrator from the Web Client
Open a Web Browser (Firefox and Internet Explorer are supported) and enter the path to the FileHold server. The Web Client Login path to the server follows this pattern:
http://YOUR-FileHold-SERVERNAME/FH/FileHold/WebClient/LoginForm.aspx
This is a link on your desktop or from the FileHold Desktop Application (FDA) by selecting Administration > Web administration panel from the menu bar.
Enter your Login, Password, and select the domain (if required) and click Log In.

Click the Administration > Full administration menu link at the top of the screen.
Image
Some frequently accessed library administration functionality can be found under the Administration menu for both the Web Client and FileHold Desktop Application (FDA). This provides quick easy access to specific administrative functionality without the need to leave or lose the information on the current library screen.
The full administration menu can be accessed:
In the Web Client, click Administration and select Full administration menu
In the FDA, from the Administration menu, select Web Administration Panel > Full administration menu.
All users have access to the Administration panel but depending upon the role used to log into the Web Client, only the functionality that the user is able to access is shown in the administration panel. As a system administrator, you have access to everything in the Administration panel.
In the Administration panel, a setting called Solo Mode can be enabled so only one section of the Administration panel will expand at a time. If Solo Mode is disabled, then all of the sections can be expanded and the Collapse All button is available.
Image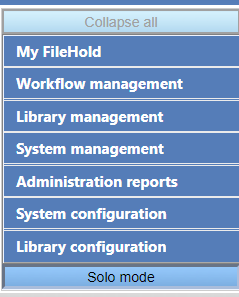 The following areas in the Administration Panel is available to library administrators. Note that for Cabinet administration and Library administration roles, the menu items are only available for those cabinets they are an owner of in the library tree.
To log out from Library Administrator in the Web Client
To access the Library Administration functions in FDA
Log into FDA and go to Administration > Manage Schemas or Workflows.