Records Management Software
Image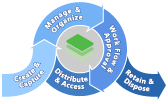 Both public and private sector managers have an ever growing concern about the liabilities associated with the incorrect storage and disposal of corporate or public records. Records management software alleviates these concerns by automating the management of records in compliance with various national and international standards.
In an age of ever increasing regulations, procedures, and compliance, records management has never been more critical to meet the need of corporate control, risk management, and operational mandates. Regrettably, many organizations lack policies and procedures for the organized control of information.
Organizations are also subject to more litigation than ever. This is typically called an e-discovery where the collection, preparation, review, and production of electronic documents are provided in the litigation case. The data that is identified as relevant to the case are put on "legal hold". Organizations should think proactively about records management software if they want stress-free e-discovery. The software can provide the ideal solution to get your documents organized in order to be prepared in the event of an e-discovery.
Retention policies for documents
Records retention policies and procedures should include:
Archiving policies for various document types. In other words, how long these different document types stay "active" before they can be sent to the library archive.
A destruction policy for setting how long information is retained before it is destroyed. This avoids destroying vital documents prematurely, or not at all. Retaining everything indefinitely is not good records management.
Procedure for capturing the proper information for regulatory reporting. It is critical for organizations to assess their current state of preparedness to determine how well they can safely and efficiently respond to an e-discovery request or governmental inquiry.
There should be no excuses when it comes to controlling your valuable corporate information when it comes to legal, compliance, or regulatory requests. The records management component of FileHold document management software automates the storage and retention of records-based assets by providing powerful indexing, searching, and disposal within the electronic library. Several levels of user security ensure that only authorized users have access to restricted information. In the event of an e-discovery, FileHold records management software ensures that you can find the relevant data quickly and easily, and be less subject to court sanctions, compromised legal positions and fines!
Record series
The U.S. National Archives and Records Administration defines a record series as follows:
A series is the basic unit for organizing and controlling files. It is a group of files or documents kept together (either physically or intellectually) because they relate to a particular subject or function, result from the same activity, document a specific type of transaction, take a particular physical form, or have some other relationship arising out of their creation, receipt, maintenance, or use.
Each record series must be scheduled for appropriate disposition. The series concept is a flexible one, and programs should create series by organizing documents in ways that facilitate management of the records throughout their life cycle. For example, each record series in hard copy should be physically separated from all other record series. Electronic records should be managed in ways that link records to their disposition authority, within the context of a recordkeeping system.
When users add a document to FileHold they assign it a document schema. The document schema definition contains all the elements necessary to define a record series. It defines who is able to access the document, the meta information that will be associated with the document, where the document should be filed, and the life cycle policies for the document.
Read Document Schemas for more information on how to setup and manage document schemas.