FileHold software was designed to make managing your documents easier and what better way to help than provide a user interface in your team's native language?
The installed FileHold Desktop Application (FDA) offers two Language Packs as standard features: French and Spanish. These are a free standard feature for use with the FDA. Once the language pack is installed, it is easy to switch between languages. FileHold will remember each user's language preferences at log in to the FDA, and load the interface in that language. This way, FileHold can be attuned to your team's needs, whether working in the same office, remotely, or on a shared workstation.
The language localization of FileHold puts the interface into the selected language, and ensure that commands, menus, and options appear in the selected language:
Spanish language interface
Image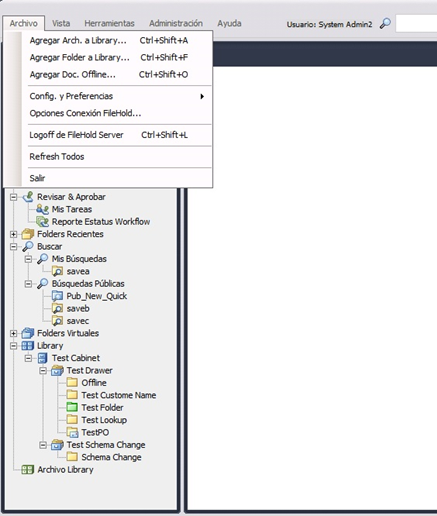 French language interface
Image
FileHold offers the French and Spanish Language Packs as standard features for the FDA. If you require more localized language translations, or would like a different language pack, the FileHold Professional Services team can review your project with you.
For more information about the FileHold French or Spanish language packs, contact [email protected].