Document Scanning with ABBYY FlexiCapture
| | |
| --- | --- |
| Image | With automatic document classification and data capture features, ABBYY FlexiCapture helps organizations of any kind with any volume of paperwork significantly increase efficiency by automating paper-based business processes. |
ABBYY FlexiCapture is intelligent, accurate and scalable document capture and data extraction software. It provides a single entry point to automatically transform the stream of different forms and documents of any structure and complexity to usable and accessible data ready to be exported into your business applications and databases. ABBYY FlexiCapture replaces manual time- and resource-consuming document sorting and data entry processes with automatic document classification and data extraction.
Zonal OCR in Document Scanning Made Easy
ABBYY FlexiCapture is designed for low- to high-volume automated data capture from any kind of documents including:
Fixed forms (questionnaires, surveys, tests, tax returns, application and claim forms capture)
Semi-structured documents (purchase orders, explanations of benefits, receipts and invoice capture)
Unstructured documents (letters, articles and contract capture)
Say goodbye to complicated batch configuration templates for OCR zones! ABBYY FlexiCapture excels at automated capture and text extraction. The document scanning software "learns" what areas of the page to extract text from using defined keywords. ABBYY data extraction software are easy to configure and maintain. The administrator can "point-and-click" data fields for extraction on a training image set for further production level document processing. In addition, there is a unique capability of fine-tuning document descriptions in order to reach unsurpassed accuracy in locating and recognizing document fields.
Accounts Payable Invoice Scanning with ABBYY FlexiCapture
The following screen captures show invoices that have been processed with ABBYY FlexiCapture and the confirmation of the extracted text from the scanned image. Notice that the 2 invoices have a different layout but the document scanning software was able to capture the information regardless of where it resided on the page.
Image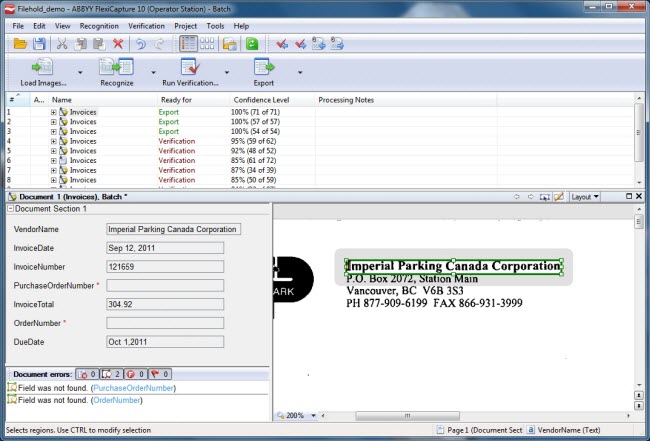 Image
See our Accounts Payable business solutions page for more information on scanning invoices with ABBYY FlexiCapture.
Stand-alone and Distributed Capture and Data Scanning with ABBYY FlexiCapture
ABBYY FlexiCapture offers both stand-alone and distributed capture installations.
Stand-alone installations are for small- to medium-sized businesses or departmental tasks where processing volume is not significant and software is going to be used in one location, Installation is easy and provides the entire range of data capture capabilities from document import to data export all executed on a single machine.
Distributed installations are for large enterprises, BPOs and government projects where distributed document capture of high volumes is required. The Distributed Installation is the most effective.delivers high-performance data capture functionality via a scalable, client-server architecture designed to support processing in a distributed network environment. It includes a set of dedicated server components for data processing, with workload balancing to ensure maximum productivity, and multiple client operator stations for each step in the data capture process: setup, administration, scanning, verification and monitoring.
There is no charge for the ABBYY FlexiCapture output connector for both installation types (stand-alone or distributed) that automates the passage of scanned documents to the document management software and business workflows.
To learn more about ABBYY FlexiCapture integration, contact [email protected].