Image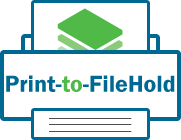 Print to FileHold (PTF) is an automated way to get documents into the FileHold library from any third party application that supports the ability to print a document. PTF eliminates the need to print documents and then scan to store them electronically; this saves organizations time, paper and money.
The Print-to-FileHold (PTF) virtual printer driver software is installed on a desktop computer running the 3rd party application that is creating the documents. (i.e. Accounting, HR or CRM applications are the most common). When the user wants to send a document from a 3rd party application to be stored on the FileHold server / repository they initiate their normal print function. The user is shown a list of printers to choose from; selects the "Send to FileHold" option and approves the print (Send to FileHold can be set as the default).
As the print process initiates, an "Add Document to FileHold" dialog box is automatically displayed and a popping sound is heard to confirm the document is ready to "Add to FileHold". The user highlights a folder destination from the FileHold library tree on the left side of this dialog box which will display the other documents already in this folder; this allows the user an opportunity to visually confirm, that indeed, this folder is where they actually want to store the new document.
Highlighting the folder will also automatically display, at the bottom of the dialog box, the default Document Type (schema) of the folder. This default Document Type can be used or a different one chosen. Based on the Document Type the metadata values (tags) are filled in. When completed; the "Add button" is clicked and the document is correctly and securely added to the document management system. The document is automatically deleted from the temporary location and the dialog box is closed.
Only one dialog box is displayed at a time, so if multiple files are printed at the same time, a second dialog will appear once the first one is confirmed. Destination and metadata is provided separately for each document.
As an additional benefit the document is converted to PDF so that it can be fully OCR enabled making it full text searchable by the powerful standard or advanced search tool. PDF is a more compressed form in which to save documents and saves storage space.
Acts like a virtual printer
PTF is an ideal application for the accounting department that sends out invoices electronically but would like to have an image of the invoice (along with other pertinent contract information) in a central repository.
PTF is an optional feature that has a one time licensing charge. The fee includes an unlimited use license key that activates the feature and up to 4 hours of support / training time to assist with the first implementations (registry setup etc.). The installation and global configuration is very easy.
Read our whitepaper on Print-to-FileHold.