FileHold Fundamentals training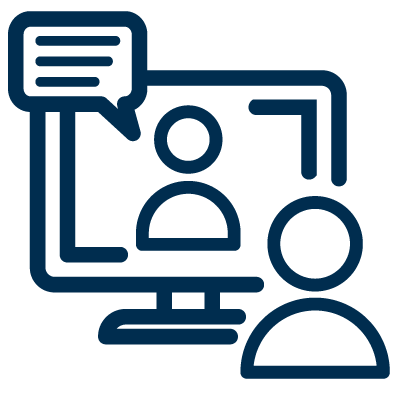 FileHold training is highly recommended for all implementations. Although FileHold is easy to use, some elements of setup should be considered before deployment. For example, would your organization benefit more from a diverse set of schema and rich metadata fields, or would a more pared-down minimalist model provide a greater return on investment? FileHold is feature-rich, so making sure your team knows how to use and optimize the tools will help them be engaged, confident, and able to contribute. This means a higher rate of adoption for the software so the organization can run better, reduce paper, and streamline processes.
The FileHold Fundamentals program is designed to provide the essential skills to get working with the software quickly while covering all the elements that give the most benefit to the deployment. The Fundamentals program is intended for smaller deployments with basic use cases, or where turnover is rare and ongoing training will not offer the maximum benefit.
All training is done remotely through online meetings and desktop-sharing software that enables the trainer to meet with your employees via the Internet in real-time. Training is done on your installation of FileHold DMS so the trainer can assist in configuring the system as the training proceeds. The program is offered in a "train-the-trainer" model to ensure your team leaders, project champions, or administrators understand all the basics of FileHold operation.
The Fundamentals package includes eight hours of online training directly with your team. The first three sessions are outlined below: System Administration, Library Administration, and End-User Administration training. This leaves some time at the end of the Fundamentals curriculum to review other elements of FileHold, such as workflow or document scanning with SmartSoft Capture. You can see these other offerings that can be part of your Fundamentals package here.
At FileHold, we pride ourselves on customer service. Once training is completed, we will plan a follow-up session to ensure that we have done our job well and that you can maximize the many features of FileHold to realize your investment in the software.
Questions about the training curriculum or want to organize a session? Email [email protected].
Session 1 - Users, Groups, and System Configuration (1 hr)
Creating accounts and users
Creating groups and assigning roles
Essential configuration settings
Session 2 - Document schema, metadata, & events (1 hr)
Creating custom schema
The different types of metadata
Creating events
Applying events and metadata to schema
Configuring schema
Session 3 - Library Set-up (1 hr)
Creating cabinets, drawers, folder groups, and folders
Applying security to cabinets and folders
Session 4 - Adding documents & records (1 hr)
Adding documents to FileHold using the inbox
Adding multiple documents in the FDA
Using Watched Folders
Setting up Extraction rules
MS Office integration
Archiving documents
Session 5 - Using Documents in FileHold (1 hr)
Viewing documents in Folders -
Checking documents out, Version control and version history
Linking documents
Alerts & Reminders
Working documents
Creating custom views
Tour of the FDA: My FileHold, Virtual Folders & Document tray
Session 6 - Search (1 hr)
Basic & Advanced Search
Saved personal and public searches
Empty and quick searches
The search bar
FastFind (if purchased)
FileHold now offers an unlimited training package so FileHold customers can continue to hone their skills and optimize FileHold in the future. This is also a terrific option for larger deployments, more complex use cases, or where there is high turn-over to ensure FileHold continues to offer the organization exceptional document management services. For information and pricing for unlimited training, please contact [email protected].