Logging in with Multi-Factor Authentication
If you need additional security when accessing the FileHold application, the multi-factor authentication feature strengthens access security by requiring two methods to verify a user's identity. FileHold supports multi-factor authentication (also called MFA, 2FA, multi factor) with the Duo (www.duo.com) "Trusted Users" service. Each user of FileHold may be required to create a Duo account in order to login to the system.
All FileHold clients supports MFA including: FileHold Desktop Application (FDA), web client, mobile web client, and Courier client.
An administrator needs to set up the Duo account at www.duo.com prior to configuring MFA in FileHold. This is the responsibility of the customer, not FileHold. See the System Administration Guide for details on how to configure two-factor authentication.
To login using two-factor authentication with Duo
Open a FileHold client and login using your FileHold credentials.
If a Duo account has not been set up for the user, you are prompted to start the account setup process. Click Start Setup.
Follow the prompts to set up your selected device for authentication.
Click Continue to Login.
Select your method of authentication:
Duo Push – Pushes a login request to your phone or tablet (if you have Duo Mobile installed and activated on your iOS, Android, or Windows Phone device). Just review the request and tap Approve to log in.
Call Me – Authenticate via phone callback.
Passcode – Log in using a passcode, either generated with Duo Mobile, sent via SMS, generated by your hardware token, or provided by an administrator.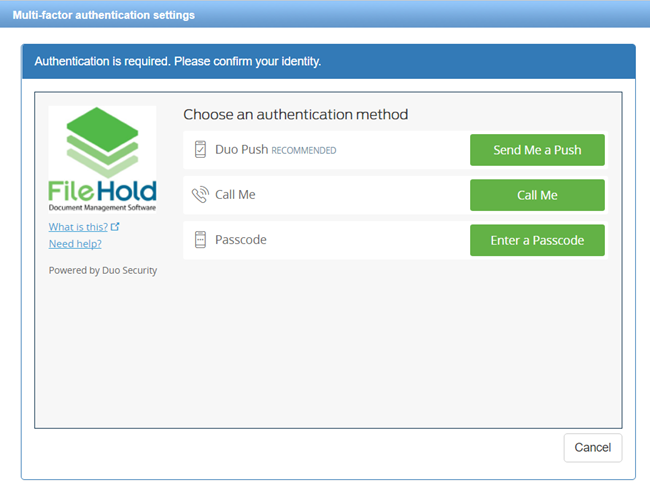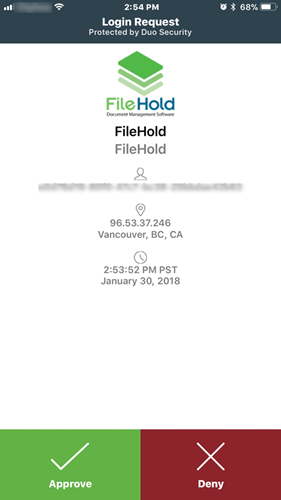 You are automatically logged into FileHold once your Duo account has been authenticated.