FileHold viewers – Redaction
Redaction is available in the FileHold level 3 viewer. Redactions are used to conceal sensitive information for legal, financial, privacy, and security reasons, for example. Redaction associated with the published document can never be edited or removed by the end-user and the text and images beneath the redaction entities can not be viewed, copied, or searched.
Image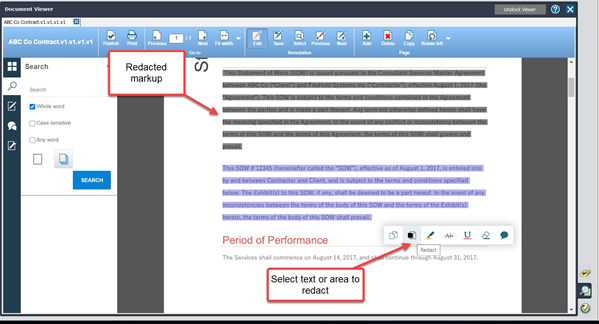 You can redact text, areas, pages, images, or use the search function to find and redact. To apply the redaction, the document must be published otherwise the redaction remains as a part of the markup layer and can be modified by users. After publishing, the redacted content is unreadable and not searchable.
 
The redaction colours can be modified in the web config file in C:\Program Files\FileHold Systems\Application Server\WC2. The following keys can be added to set the pre- and post-redaction colours:
<add key="Viewer.PreRedactionColor" value=" <hex value> "/>
<add key="Viewer.PostRedactionColor" value=" <hex value> "/>
To add redaction
Open a file in the FileHold viewer and click Edit  . The document is now in annotation mode. No other user can annotate or check out the document.
Select text or an area on the page and click Redact  . The selected area or text is greyed out.
Do one of the following:
To keep the redaction as part of the markup layer, click Save .
To burn the redaction into the document and make the redacted areas unreadable and not searchable, click Publish  .
Click Edit to exit annotation mode. You must exit annotation mode in order for other users to annotate the document.
To apply redaction to search results
In the FileHold viewer, with annotation mode enabled (click Edit ), search for a word or phrase.
In the search results area, right-click on a match. The context toolbar appears.
Select Redact  .
In the pop-up window, select one of the following options and click OK:
Apply to the current selected text only
Apply to all search results
Save as a markup layer or publish as a new version.