The System Audit Log logs activities performed by a System Administrator. This log is never deleted or overwritten. The audit log can be filtered by user name, description, and to and from dates.
The following information is recorded in the log:
Adding local and domain users
Deleting local users

Modifying user accounts and FileHold groups

Adding and deleting FileHold groups
Enable and disabling licenses
Resetting passwords
Adding and removing users to and from FileHold groups
Additional repositories are added or existing repositories are modified
License is updated. The unique license ID is included in the details.
Courier licenses - When new license packs have been added, closed, locked, unlocked or cancelled.
If the permission setting "Enable optional passwords in workflow templates" is enabled or disabled.

External ad-hoc Courier users are added to transmissions at initiation time

Change in general system settings
Change in email settings
Change security settings
Change search settings
Initialized FTS index
Image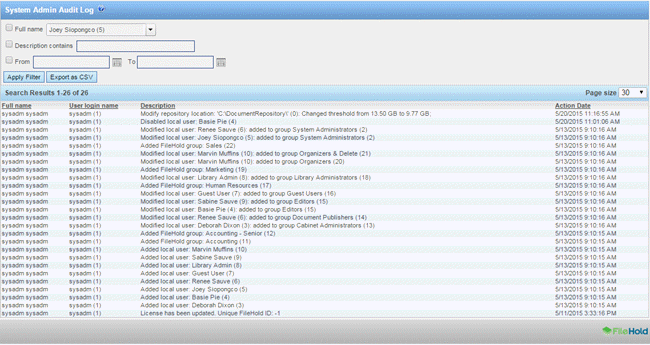 To access the System Audit Log
Log into the Web Client and go to Administration > Full Administration Menu > Administration Reports > System Audit Log.
Use any of the following filters:
Username
Description contains – Enter a full or partial description such as "deleted folder" or "added"
From <date> to <date>
Click Apply Filter. The number of results and the report are shown below. The number of rows that are displayed in the report view can be adjusted to show 15, 30, or 60 rows at a time. Click on the column to sort in ascending or descending order.
Click Export to CSV to export to a CSV file.