The Scanner Inbox is where all of the scanned or added images using Web cap are stored in the Web Client version of FileHold. Documents in the Scanner Inbox are saved to the FileHold server until they are removed. This allows users to complete other functions in the document management system or log off and come back to the images at a later time without losing them.
To access the Scanner Inbox
Log in to the Web Client version of FileHold.
Click on the Scanner Inbox in the Library Tree area.
Image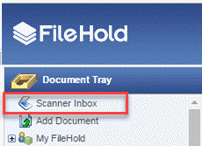 In the Document Viewer area, the thumbnails for the images are shown on the left and the entire image is shown on the right for the currently selected thumbnail. The images can be manipulated using the options in the toolbar above such as rotated, zoomed in or out.
Image