Email notification when adding or checking-in documents
When enabled, the email notification displays a check box option that allows users to notify Folder members that a new file is added or checked in. This can be a useful tool for some environments but restricted in others. The check box option "Email notify all folder members that this document has been added to this folder" is available during adding and check-in events. If disabled, this check box is not available.
Image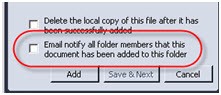 This does not end the ability for users to email documents, set reminders on folders or documents, or receive email reminders, configuring general notifications in Library Administration or other user subscription driven alerts. This setting within Library Administration only globally removes the ability to notify all folder member(s) upon document add event or check in an existing document.
To allow email notification when a document is added or checked in
In Web Client, go to Administration Panel > Library Configuration> Settings > General.

In the Email Notification area, select the Allow Push Email Notification on Add File or Check in File Events check box. This feature is enabled by default.

To disallow email notifications globally for all users, clear the check box. This will remove the "Email notify all folder members..." check box when adding or checking in new documents.

Click Update.