Viewing documents in the Courier portal
A recipient of a transmission will get an email containing details of the transmission along with a link they can use to view the documents in the Courier portal. When the link is clicked, the list of documents they have been given access to view is displayed. The recipient may be required to login to the Courier portal prior to viewing the document list.
NOTE: If the recipient of the transmission is using an email address that is being used in a FileHold user account, then the password to log into the portal is the same as the FileHold user.
There may an option to "view" the document using the built-in viewer if the format is supported. Supported formats include jpg, jpeg, png, bmp, gif, tif, tiff, docx, and pdf. A View button will appear for any supported document format. There is no configuration required to make the viewer work with Courier. The viewer will open the document in a separate pane. In the viewer you can scroll through pages, zoom in and out, fit width, fit length or whole page.
The information displayed in the portal is configured by the system and/or library administrators. Below is an example of what might be seen by a recipient in the Courier portal.
Image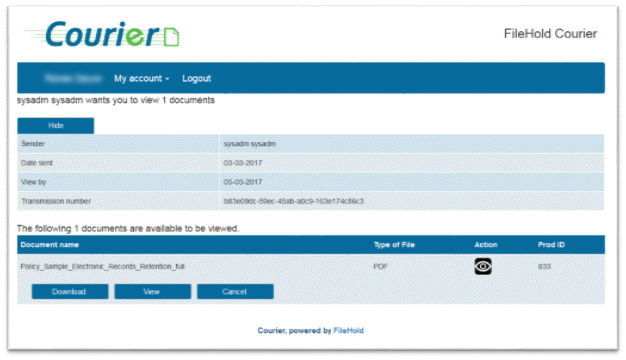 In order to view documents in the natively supported application, they must first be downloaded or viewed using the built in viewer. To download a document, click the document name and click Download. Once the document is downloaded it is considered as "viewed" and the Courier unit held in reserve for this transmission is consumed. Each document downloaded consumes one Courier unit.
The view action icons are the following:

— The view action in the transmission is pending.

— The view action in the transmission is completed.

— The view action in the transmission is overdue.
If a transmission is overdue but not yet expired, the view can still be completed.
The sender may suspend viewing of the document after the review has been completed. If it has been suspended, the following message appears:
Transmission visibility has been suspended.
The view action details can be seen in the Courier transmission report.