FileHold WebCap - Web-Based Scanning into the DMS
| | |
| --- | --- |
| Image | FileHold WebCap (preview) is a web-based scanning feature that allows each remote users to scan documents using only a web browser without having any local scanning software installed. |
Introduced as a preview feature in FileHold.
Remote users can scan and store documents into the document management repository from anywhere they have access to the internet. This feature appeals to organizations that have many remote offices or many mobile workers who need to scan documents such as contracts, bill of sales, expenses, or work estimates into a document management system. It is especially powerful for companies who want these documents to go into a workflow to automate review and approval processes.
This is an optional feature that can be considered very inexpensive when compared to the cost of providing equivalent scanning power on a desktop to many locations not to mention the fact there is zero cost of local support of a PC footprint. All users have the same software regardless of what TWAIN compatible scanner they have and the scanning function is seamlessly integrated with the rest of the FileHold user interface. Documents can be stored in FileHold in TIFF or PDF format. Internet Explorer, Firefox, and Chrome browsers are all supported.
Image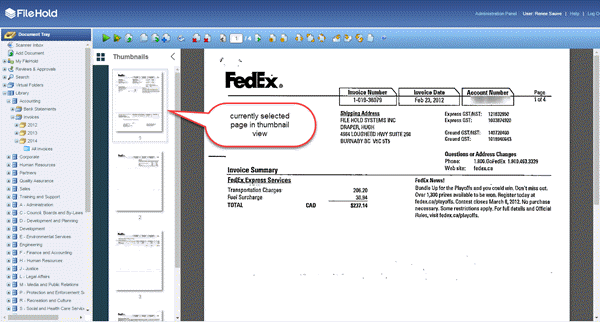 FileHold WebCap document scanning from anywhere where there is access to the internet!