Image

The FileHold Cloud is for organizations who lack internal IT resources and want FileHold to manage implementation and support their document management system.
Cloud deployments can be acquired via a pay per user subscription with the option to cancel at any time. FileHold will provide the server hosting, the software application and any support needed to make the installation successful. The FileHold Cloud will be installed in an Azure cloud hosting facility in your country of choice. Your documents can be retrieved from the cloud with a few simple keystrokes.
FileHold software can also be self-hosted on your private cloud or on your own server.
Read a case study on moving to the cloud and back.
FileHold is enterprise-grade software with a minimum deployment of 5 users. FileHold can scale to thousands of users and store millions of documents. The cost of the FileHold software varies depending on the number of users and optional features purchased.  The Cloud document management solution includes hosting, back up, upgrades, document scanning, workflow set-up, forms creation and consulting.
To get a detailed quote on FileHold Azure Cloud subscription contact [email protected].
Microsoft Azure Hosting - Always up, always on
The Azure hosting environment consist of an infrastructure of hardware, software, network, and storage resources. These environments handle resource management and automatically manage the lifecycle of a hosted service based on defined requirements. The Azure hosting environments offer a 99% or greater monthly availability which will ensure that a customer gets a highly available application without focusing on the infrastructure. Azure provides automatic OS and service patching, resiliency to hardware failure. Azure and FileHold support a deployment model that enables upgrades to your application with minimal downtime. To learn more about the Azure hosting environment go to https://azure.microsoft.com/en-us/overview.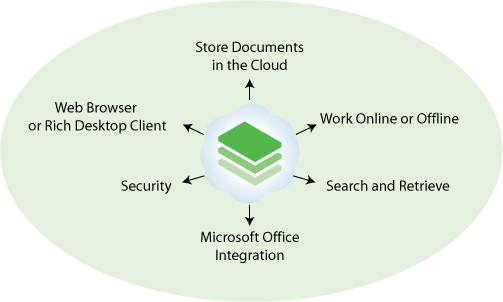 About Azure Security
With industry-leading compliance and privacy certifications to built-in security controls and unique threat intelligence, Azure has everything you need to identify and protect against rapidly evolving threats.
Start with a secure foundation - Reduce costs and complexities with a highly-secure cloud foundation that takes advantage of multi-layered security provided by Microsoft.

Streamline your compliance and enable business transformation - Use built-in controls, configuration management tools, implementation and guidance resources, and third-party audit reports to simplify your compliance needs.

Detect threats early - Identify new threats and respond quickly with unique services informed by real-time global cyber security intelligence delivered at cloud scale.
Q & A on a Cloud-Based Document Management System
Common questions customers ask about the cloud. 
Does the FileHold Azure Cloud solution covers both cloud infrastructure, back up and FileHold DMS? - YES, The FileHold Azure Cloud is a complete IT and hosting solution.
Will the FileHold Azure cloud be installed and the documents retained in my country of choice? - YES, each installation is in the customers country of choice.
Can I recover my document, on my own from the FileHold cloud? - YES, there are very easy to use document export tools.
Can FileHold Azure cloud be accessed from anywhere there is access to the internet? - YES including via mobile devices.
Can FileHold be installed in a 3rd party hosting facility such as AWS or RackSpace? - YES a customer can make their own self-hosting arrangements and provide a server that meets FileHold server requirements.
When FileHold software is installed in the secure Azure cloud the FileHold support team will manage and support all aspects of the installation.
Security and Compliance Discussion
GDPR Compliance - FileHold, through Microsoft, is GDPR-ready. FileHold shares Microsoft's policy on compliance. Azure employs a shared-responsibility model between the customer and Microsoft. Microsoft is responsible for the platform including services offered, and seeks to provide a cloud service that can meet security, privacy, and compliance needs. Customers are responsible for their environment once the service has been provisioned, including their applications, data content, virtual machines, access credentials, and compliance with regulatory requirements applicable to their particular industry and locale. Azure incorporates all the necessary safeguards to ensure GDPR requirements can be satisfied.
Data at rest is automatically encrypted server-side. All Managed Disks/Snapshots/Images and new data written to existing Managed Disks are automatically encrypted-at-rest with keys managed by Microsoft. Data in Azure Storage is encrypted and decrypted transparently using 256-bit AES encryption, one of the strongest block ciphers available, and is FIPS 140-2 compliant. Azure Storage encryption is similar to BitLocker encryption on Windows. Encryption doesn't affect performance and it doesn't have any extra cost. Azure Disk Encryption is used to encrypt Windows VM disks. Disk Encryption combines the industry-standard Windows BitLocker feature to provide volume encryption for the OS and the data disks.
Security - Microsoft provides a secure VPN to connect to Azure, so any data uploaded to, or downloaded from, Azure is encrypted and all data stored in its cloud instances are encrypted. Microsoft Azure also provides continuous monitoring and threat and incident management.
Access Control - GDPR requires access controls to be implemented to limit who can access to personal information. Azure offers these controls and uses Active Directory to allow permissions to be set. Multi-factor authentication can also be added.
Audit - Audit controls are also necessary for GDPR compliance. Azure includes detailed logging, so administrators can see who accessed or attempted to access protected health information.
Privacy - Policy driven common controls, certification on ISO 27018. Dashboard to track how well company is adhering to ISO 2700 and GDPR controls.
Breach and Notification Rules - Upon becoming aware of a Security Incident involving PI, Microsoft will report the Security Incident to the emergency contact or administrator(s) of the affected Azure subscriptions. Microsoft will report any information it has developed on PI involved in a security breach within 30 days after discovery of the breach.
GDPR Whitepaper: https://gallery.technet.microsoft.com/How-Azure-Can-Help-788a4979
GDPR compliance best practices: https://www.microsoft.com/en-us/trust-centre/privacy/gdpr-overview
AntiVirus Scanning – Azure offers free real-time protection via Antimalware. It's built the same as Microsoft's Security Essentials with Windows Defender. It runs in the background without human intervention. Alerts are given when known malicious or unwanted software tries to install itself or run on our Azure systems. However, FileHold has no control of what gets uploaded by the customer and no way of knowing if the AV is in place will catch problems.
Service Level Agreement (SLA) for the FileHold Cloud Hosting Services Based on Microsoft Azure and a Subscription to the FileHold Software
For this installation the FileHold software and customer documents will be hosted in the country of the customer's choice. This can be specified on the customer PO or the FileHold invoice.

FileHold Export Assistance (Optional) If the client has requirements for exporting files out of FileHold that are not satisfied by the standard export utility built in to the FileHold Desktop Application, FileHold can provide assistance as a professional services engagement. For example, the data will be moved to an new system and the new system requires a specific format not accommodated by the export utility. The scope of the export effort will be discussed in advanced and will be influenced by variables such as number and size of files, complexity of data required, requested formats, etc. FileHold Professional Services assistance can be provided as time materials at a rate of $175.00 per hour.

The FileHold software and the Azure hosting program has a monthly fee based on the number of users of the core FileHold software, optional features chosen and document storage consumed. The program is invoiced annually in advance and may be terminated at any time by the Customer by advising FileHold or simply not paying the next invoice in advance.
As document are added and storage needs increase the monthly billing will be adjusted at the rates provided in the FileHold proposal. Some FileHold operational overhead is used in the storage provided in the 32 GB base system. FileHold reserves the right to allocate disk space based on observed usage rather than purchased units, the process to back up documents consumes disk storage space.  When disk space reaches 70% of allocated capacity FileHold will resize allocated space to the next billing size until the purchased units maximum is reached. 
In the case of cancellation or non-payment the software will be decommissioned immediately after the notification date. All data will be destroyed 14 days after decommissioning. The customer may make billable arrangements with FileHold for the return of any documents on the server. 
Services Covered in this Agreement
An Azure hosting infrastructure will be provided that meets the system requirements to operate the FileHold software.
The Azure storage space to maintain customer documents, storage requirements will vary depending on the size and number of documents to be stored.
With the exception of Microsoft and FileHold software updates and other scheduled updates Microsoft Azure provides uptime guarantees for all of the many components of their service. These guarantees are at https://azure.microsoft.com/en-us/support/legal/sla/summary.
Nightly file-level backup of all required data is on a 2-week backup rotation Azure Backup uses a full back up on its first invocation and then uses incremental backups for every backup after that. The default backup program is: Defaults are weekly for 12 weeks, monthly for 60 months, and yearly for 10 years. Different backup schedules may be negotiated.
One-time backup snapshots and SQL database backups will be taken prior to upgrades/changes in case there is a need to revert. Any upgrades needing downtime will be scheduled with the customer.
The Azure site will be protected by Microsoft Anti malware for Azure Cloud Services and Virtual Machines more information at https://docs.microsoft.com/en-us/azure/security/fundamentals/virtual-machines-overview FileHold has no control of what gets uploaded by the customer and no way of knowing if whatever AV is in place will catch problems.
Documents in transit are encrypted via HTTPS.
All Microsoft licensing, monthly Windows and SQL Server patch management will be provided by FileHold.
Continuous cyber vulnerability scanning (internally and externally) is provided.
An Azure firewall will be in place for maintenance and patching.
Professional Services that are outside of normal hosting are not limited to the below and are billable at the FileHold Professional Services hourly rate:
Networking services for implementing new hardware or configurations outside standard configuration required for FileHold operation. For example: Microsoft Active Directory integration or VPN tunnels.
The restoration of customer deleted folders or files from backup.
User training, document migrations, or API development.
Upgrades
Customers on Subscription / Hosting will have their server automatically upgraded from one version of FileHold to the most current. At upgrade time the Customer will be contacted to approve and schedule the upgrade at a time convenient for them. During the upgrade there may be a short period of time when FileHold is not be available to end users. Customers who use the FileHold desktop application (FDA) will be given a link and instructions on how to upgrade their desktop environment.
Customer Support
Subscription / Hosting Customers receive unlimited technical support (FileCare) related to the FileHold software operation. The support process starts by the Customer sending an email to: [email protected] with a brief description of the issue or a question. The email request will be assigned to the next available technician or trainer who may run a "health checker" tool on the server to rapidly diagnose all components of the system to troubleshoot any issues. The technician will respond to the customer via e-mail or set up a remote support meeting with the customer to solve the issue. Support is scheduled to be available from 12:00 am to 4:00 pm Pacific time, 16 hours per day, Monday to Friday excluding certain local holidays. Additional support can be scheduled on weekends or evenings by prior arrangement.  Customers on Subscription / Hosting have access to our web-based training system and online help, which provides web delivered multimedia training 24 x 7 x 365.
Issue Severity Definitions
Software Defects - Defect identification occurs when the root cause of an issue is found to be a defect in the FileHold software. Any such defects will be addressed in accordance with the following severity levels.
Level 1 - Global severity - Definition: All or most of the Customers users affected by a defect causing an outage of functionality. Response: FileHold will remedy these defects and or provide a workaround within one business day from defect identification. A permanent solution will be provided in the next hotfix, minor, or major release.
Level 2 - User severity - Definition - One or a small number of the Customers users affected by a defect causing an outage of functionality. Response: FileHold will remedy these defects and or provide a workaround within three business days from defect identification. A permanent solution will be provided in the next hotfix, minor, or major release.
Level 3 - Non-critical Severity - Definition: A cosmetic issue that causes no significant effect on the Customers users and a workaround is available. Also when there is a product question. Response: FileHold will remedy these defects in a future minor or major release. Product questions will be answered within 24 hours.
Customer Document Confidentiality – Non-Disclosure Agreement
Under no circumstances will FileHold employees view, copy or reproduce in any way a customer's documents without getting their explicit approval to do so but even then, if it can be avoided, employees will avoid doing so. This policy applies to FileHold employees who work in sales, implementation, training and ongoing support. FileHold claims no access, intellectual property rights or control over the documents the Customer uploads to the FileHold repository.  A record will be kept of each time a FileHold employee accesses the customer system and can be provided to the customer upon request.
This Subscription / Hosting agreement is also a non-disclosure agreement that commits FileHold to privacy and security relative to a Customers documents. This agreements also prohibits FileHold from talking about a Customer's business processes to anyone else without explicit approval from the Customer.
Terms and Conditions of Use
These Terms of use for the Subscription / Hosting program refer specifically to the use of FileHold software where the Customer is not able to accept the normal End User License Agreement (EULA) that covers the use of FileHold software. The Customer agrees to the following Terms of Use.
Copyright and Ownership
FileHold owns the intellectual property rights to all protectable components of the FileHold software including but not limited to the name of the software, artwork and end-Customer interface elements and features contained within the software. You may not copy, modify, adapt, reproduce, distribute, reverse engineer, decompile, or disassemble any aspect of the software which FileHold or its suppliers own.
General Conditions
The Customer agrees not to distribute or add documents to FileHold or anything containing a computer virus or any code, file or software program intended to interrupt, destroy or limit the functionality of the FileHold software or the install infrastructure. If a virus is detected on the FileHold software and it originated from the customer all costs related to back up or recovery will be the responsibility of the customer and FileHold will bear no liability if such an event occurs.
FileHold makes no warranties regarding the Customers ability to use the software, or that the Subscription / Hosting program will be available at all times, uninterrupted, and error-free.
FileHold is not responsible nor liable for any direct, indirect, incidental, consequential, special, exemplary, and punitive or other damages arising out of or relating in any way to the Customer use of the FileHold software. The sole remedy for dissatisfaction with the Subscription / Hosting program is for the customer to stop using the Subscription / Hosting program, recover all stored documents and receive reimbursement for the most recent Subscription / Hosting payment. If the Customer violates any of the terms we reserve the right to cancel the agreement after ensuring all documents are returned to the customer.
Limitations
This SLA and any applicable Service Levels do not apply to any performance or availability issues:
Due to factors outside our reasonable control (for example, natural disaster, war, acts of terrorism, riots, government action, or a network or device failure external to the Azure data centers.
That result from the use of services, hardware, or software not provided by us, including, but not limited to, issues resulting from inadequate bandwidth or related to third-party software or services.
Caused by your use of a Service after we advised you to modify your use of the Service, if you did not modify your use as advised.
During or with respect to preview, pre-release, beta or trial versions of a Service, feature or software (as determined by us).
That result from your unauthorized action or lack of action when required, or from your employees, agents, contractors, or vendors, or anyone gaining access to the network by means of your passwords or equipment, or otherwise resulting from your failure to follow appropriate security practices.
That result from your failure to adhere to any required configurations, use supported platforms, follow any policies for acceptable use, or your use of the Service in a manner inconsistent with the features and functionality of the Service (for example, attempts to perform operations that are not supported) or inconsistent with our published guidance;
Dispute Resolution
The Parties agree that they will first attempt to resolve any dispute by contacting the other party directly. If the Customer and FileHold are unable to resolve the dispute by these means, they agree to submit to final and binding arbitration. Each party shall pay their own fees for such a process.
On Premise vs Cloud Document Management Comparison Table
| | | |
| --- | --- | --- |
| FileHold Feature Description | On Premise |   Hosted   |
| Traditional server-based software that is installed in your infrastructure and maintained by your local IT resources | X |   |
| Installed on a hosting "Cloud" service and not installed or maintained by IT resources |   | X |
| Share documents across multiple offices, companies, and public | X | X |
| Securely stores documents | X | X |
| Store all document types in a central repository | X | X |
| Search instantly to retrieve documents | X | X |
| Accessible via the rich desktop client and web browser | X | X |
| Microsoft Office integration | X | X |
| Work online or offline | X | X |
System Requirements for a Hosted Solution
Microsoft Active Directory Synchronization
Static IP
Firewall that supports a dedicated tunnel
Firewall that supports IKE V1 or V2
Client Workstations
See the system requirements for client workstations.