Introducing two-way integration with Microsoft Teams
Just in case you have not heard yet, the collaboration platform from Microsoft called "Teams" is taking the world by storm. A recent report in BusinessofApps.com stated that Teams is "by far the most popular business communications platform" with over 300 million users in 2023. Many users are working with Teams as a chat platform and Microsoft has retired Skype Business with Teams as its replacement. Another significant group are the online voice and video conference users and Teams growth in this area recently outpaced the growth of Zoom.
Another growing function area of Teams is document collaboration. A slick integration with Microsoft Office 365 online and Office desktop applications, that allows simultaneous editing of documents, make for a powerful combination of feature. In many cases some, or all, of these documents need to be controlled. And, either they originate in FileHold or they belong in FileHold.
For a long time, FileHold customers could only do one-way integration between FileHold and Teams using our universal embedding tools like Search by URL. This allows customers to add a new tab to a team and display a list of related documents that team members can download or view.
Image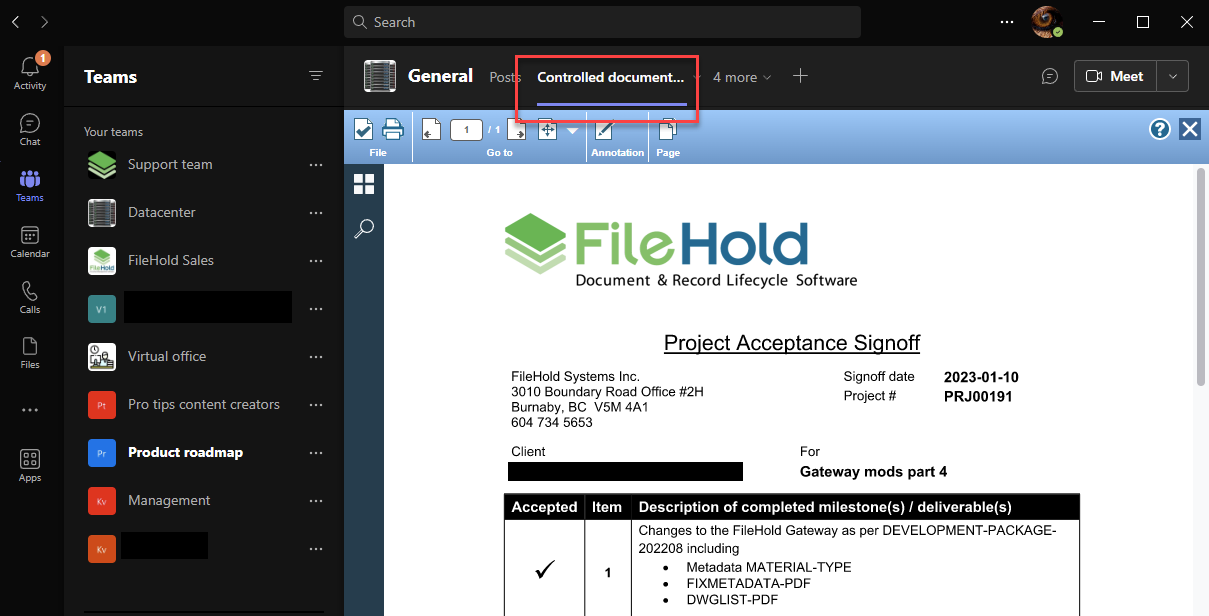 Starting in June 2023, we have released an add-on for FileHold version 17.0 to provide two-way integration with teams. This new add-on allows files in Teams to be added as documents to FileHold. Additionally, documents from FileHold can be added to a team. What's more, regardless of which way you go, FileHold will remember the action and let you easily synchronize changes in FileHold or in Teams with the opposite system.
Image

There are many common scenarios we see all the time with customers where this new feature will really shine. I'll detail a couple of the cases here.
Project initiation
There are plenty of types of projects: a lease offer for a new tenant, implementation of a new IT system, developing a new product, etc.
Often these projects start in a similar way, a loose collaboration of colleagues and consultants who need to prepare the project initiation in an ad hoc manner. There tends to be some uncertainty early-on about the continuation of the project in the long term and often the goal is a formal project proposal that is looking for executive or customer budgetary support to continue.
This is the perfect situation to use Teams. There is low impact to the project with record keeping governance, there are many colleagues who need to meet, chat, prepare various worksheets, project charters, executive presentations, etc. If the project is rejected, it can be allowed to die in Teams but, if it is accepted, it is a simple action in FileHold to mark the key documents from the early collaboration that should become long term documents in the DMS. The team can continue to be used as the project progresses and new documents can be linked from the team or incorporated from FileHold as needed.
A variation on the project start up can include bringing a set of project template documents from FileHold into the team to seed the project with the official company project templates.
Document review workflow activity
FileHold has a robust and simple to use document workflow feature. Many cases for document review and approval are isolated to a single person, but many require collaboration. This is an ideal chance to leverage the Teams integration with the "show documents" feature in FileHold. Just check any or all the documents from the workflow and either get a copy for your team or check them out to your team.
Now the team members can easily discuss the documents on a team chat or call. Whether they are checked out or not, they can be edited using the Office tools available in Teams and checked into FileHold when the group is ready to complete the review or approval. Make sure you configure the workflow activity to allow new versions of documents to be checked in if you plan on adding your revisions as new versions in FileHold.
Getting the Teams add-on
There are two pre-requisites beyond the normal system requirements to use the FileHold 17.0 Teams integration.
You must have a Microsoft 365 or Office 365 license and
Your users must authenticate to FileHold using Microsoft Entra ID.
Contact [email protected] to get Entra ID authentication and the Teams integration added to your subscription or perpetual license.
If you are not already running FileHold version 17.0 and you have a current FileCare subscription, contact [email protected] to request an upgrade to enable your system for the Teams integration.
Image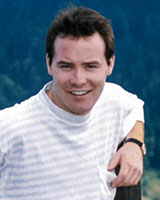 Russ Beinder is the Chief Technology Officer at FileHold. He is an entrepreneur, a seasoned business analyst, computer technologist and a certified Project Management Professional (PMP). For over 35 years he has used computer technology to help organizations solve business problems.